Welcome to our campsite!
Located a 15 minute drive from the centre of Prague and 100m from the closest tram stop, Penzion Dana Troja features free WiFi and a garden with barbecue facilities.
Each room comes with a seating area and has shared bathroom facilities. Guests can use the computers of the house for free.
Breakfast is served every morning and there is a small shop on site. Various restaurants and a supermarket are within walking distance from Penzion Dana Troja.
The property also offers a children's playground and laundry facilities.
The Wenceslas Square, the Charles Bridge and the Prague Castle are located within a distance of 4 km. A bus stop is 20m away and a tram stop is 100 meters away.
The camp offers these services
showers with hot water, toilets, electric hair dryers
outdoor kitchen, refrigerator with freezer, bar, grill
mini market on site, vending machine (drinks), grocery deliveries
garden, terrace, shared kitchen, shared lounge/TV area, outdoor furniture, picnic area, outdoor fireplace
children's playground, kids' outdoor play equipment
washing machine including detergent and fabric softener, clothes dryer, laundry service
battery charger
public telephone, fax, internet connection (surfing the Internet on our computers), Wi-Fi available in all areas
luggage / bicycle storage
tickets to attractions or shows, tour desk, ticket service, tourist information, ticket reservation
Reservation
With the booking button you can also only check the availability of accommodation in the penzion/hotel.
Important information

The camp is reopened from 25.5.2020


Camp
check-in
from 10:00 to 21:00
check-out
from 8:00 to 10:00
Penzion/hotel
check-in
from 15:00 to 21:00
check-out
from 8:00 to 10:00
Pets are not allowed.
Price lists
Price list - camp

Person
145 Kč

cca

5.5 EUR
Student (max. 26 years old)
125 Kč

cca

4.8 EUR
Child (2-13 years old)
90 Kč

cca

3.4 EUR
Tent - small (max. 4 m2, max. 2 persons)
180 Kč

cca

6.9 EUR
Tent - medium
250 Kč

cca

9.5 EUR
Tent - large
300 Kč

cca

11.5 EUR
electricity connection 230V (not for heating)
100 Kč

cca

3.8 EUR
Minibus / car (max. 5m)
240 Kč

cca

9.2 EUR
Caravan + car
330 Kč

cca

12.6 EUR
Motorhome
260 Kč

cca

9.9 EUR
Motorcycle
80 Kč

cca

3.1 EUR
Trailer
80 Kč

cca

3.1 EUR
Luggage / bicycle storage
80 Kč

cca

3.1 EUR
Washing machine (including detergent and fabric softener)
60 Kč

cca

2.3 EUR
Clothes dryer
60 Kč

cca

2.3 EUR
Wi-Fi / Internet
free
Off-season
5.11. - 20.12.
15.1. - 28.2.

Discount 20%
Peak season
Easter: 4.4. - 19.4.
Holidays: 1.7. - 31.8.
Christmas and New Year: 21.12. - 14.1.

Surcharge 20%
Camping club
Discount for camping club card holders
Discount 5%
Price list - penzion/hotel

Surcharge for one night only (per person)
100 Kč

cca

3.8 EUR
2 persons, small room + breakfast
1000 Kč

cca

38.2 EUR
2 persons, large room + breakfast
1200 Kč

cca

45.8 EUR
3 persons, large room + breakfast
1400 Kč

cca

53.4 EUR
4 persons, large room + breakfast
1600 Kč

cca

61.1 EUR
1 person, small room + breakfast
800 Kč

cca

30.5 EUR
1 person, large room + breakfast
1000 Kč

cca

38.2 EUR
Car (parking for hotel guests)
120 Kč

cca

4.6 EUR
Motorcycle
80 Kč

cca

3.1 EUR

We accept VISA & MasterCard - 1 EUR = cca 26.2 Kč
Photos
Contact
CAMP-PENZION
DANA TROJA
Trojská 129
Praha 71
171 00
Czech Republic
Tel:
+420 283 850 482
+420 603 364 825
Fax:
+420 222 742 688
Voice box:
+420 222 741 398
GPS:
50°7'1.78"N 14°25'54.32"E


Google Maps
Entertainment and trips right in Prague
50 THINGS TO DO IN PRAGUE (Honest Guide)
Well-known YouTube channel about Prague, tourist traps, frequently asked questions about Prague etc. See more guides and videos on: Honest Guide YouTube Channel
Trips around Prague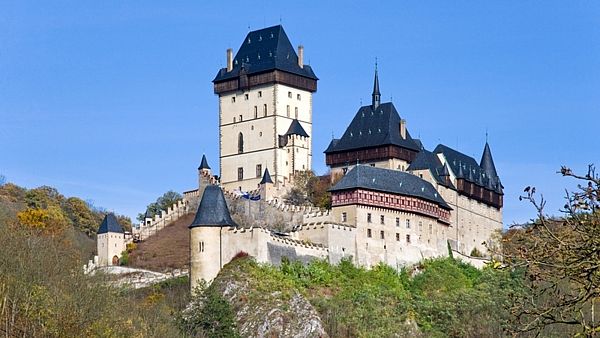 Karlštejn Castle was founded in 1348 by the Charles IV, King of Bohemia and Holy Roman Emperor as his private residence and a place of safekeeping royal treasures, especially his collections of holy relics and the Imperial Crown Jewels.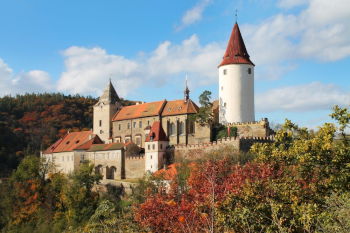 Křivoklát to the West of Prague is one of the oldest and most important castles of the Czech kings and princes, with origins dating back to the 12th century.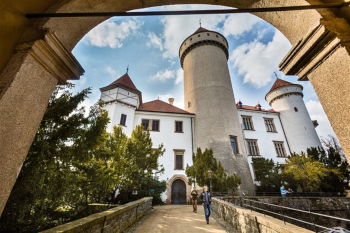 Konopiště castle excels with rich collection funds, castle collections belong to the rarest in Europe. The chateau offers four tours, additional expositions (Museum of St. George, shooting range, thematic exhibitions) and visit the adjacent Rose Garden with greenhouses.