Velkommen til vores campingplads!
Penzion Dana Troja ligger 15 minutters kørsel fra Prags centrum og 100 m fra det nærmeste sporvognsstoppested og tilbyder gratis WiFi samt have med grilludstyr.
Hvert værelse har opholdsområde og fælles badeværelse. Gæsterne kan benytte ejendommens computere gratis.
Der serveres dagligt morgenmad, og der er en lille butik på stedet. Du finder forskellige restauranter og et supermarked inden for gåafstand fra Penzion Dana Troja.
Ejendommen byder også på legeplads og vaskeri.
Wenzelspladsen, Karlsbroen og Prag Slot ligger mindre end 4 km derfra. Et busstoppested er 20m væk, og der er et sporvognsstoppested 100 meter væk.
Lejren byder på disse tjenester
Wi-fi tilgængeligt på alle områder
Bar, Grillfaciliteter, Automat (drikkevarer), Dagligvarelevering
Sightseeingskranke, Billetservice, Bagageopbevaring, Skabe, Billetter til seværdigheder eller forestillinger
Have, Terrasse, Fælles køkken, Fælles opholdsrum/TV-område, Havemøbler, Picnicområde, Udendørs pejs
Legeplads, Udendørs legeredskaber
Tøjvask
Indkøbsmuligheder
Ikkeryger-værelser, Rygning forbudt på alle fælles- og privatområder, Særskilt rygezone
Reservation
Med bookingknappen kan du også kun kontrollere tilgængeligheden af indkvartering i pensionatet / hotellet.
Vigtig information
Lejr
ankomst
fra 10:00 til 21:00
afgang
fra 8:00 til 10:00
Pension/hotel
ankomst
fra 15:00 til 21:00
afgang
fra 8:00 til 10:00
Kæledyr er ikke tilladt.
Prislister
Prisliste - lejr

Person
170 Kč
7.2 EUR
Studerende (maks. 26 år)
140 Kč
5.9 EUR
Byskat (over 18 år)
50 Kč
2.1 EUR
Barn (2-13 år)
120 Kč
5.1 EUR
Telt - lille (max 4 m2, maks. 2 personer)
220 Kč
9.3 EUR
Telt - medium
270 Kč
11.4 EUR
Telt - stort
320 Kč
13.5 EUR
Bil + lille telt
320 Kč
13.5 EUR
Bil + stort telt
370 Kč
15.6 EUR
elforbindelse 230V (min. 10A)
140 Kč
5.9 EUR
Minibus / bil (max. 5m)
300 Kč
12.7 EUR
Campingvogn + bil
370 Kč
15.6 EUR
Autocamper
320 Kč
13.5 EUR
Motorcykel
100 Kč
4.2 EUR
Anhænger
80 Kč
3.4 EUR
Cykelopbevaring
80 Kč
3.4 EUR
Vaskemaskine (inkl. Vaskemiddel og blødgøringsmiddel)
60 Kč
2.5 EUR
Tørretumbler
100 Kč
4.2 EUR
Wi-Fi / Internet
gratis
Camping klub
Rabat for campingkortskortholdere
Prisliste - pension/hotel

Byskat (over 18 år)
50 Kč
2.1 EUR
Tillæg for kun en nat (pr. Person)
100 Kč
4.2 EUR
2 personer, lille værelse + morgenmad
1110 Kč
46.9 EUR
2 personer, stort værelse + morgenmad
1260 Kč
53.3 EUR
3 personer, stort værelse + morgenmad
1610 Kč
68.1 EUR
4 personer, stort værelse + morgenmad
1960 Kč
82.9 EUR
1 person, lille værelse + morgenmad
910 Kč
38.5 EUR
1 person, stort værelse + morgenmad
1060 Kč
44.8 EUR
Bil (parkering til hotellets gæster)
150 Kč
6.3 EUR
Motorcykel
80 Kč
3.4 EUR

Vi accepterer VISA & MasterCard - 1 EUR = cca 23.6 Kč
Billeder
Kontakt
CAMP-PENZION
DANA TROJA
Trojská 129
Praha 71
171 00
Czech Republic
IČ: 07188056
DIČ: CZ07188056
Tel:
+420 283 850 482
+420 603 364 825
Fax:
+420 222 742 688
Voice box:
+420 222 741 398
GPS:
50°7'1.78"N 14°25'54.32"E


Google Maps
Underholdning og ture lige i Prag
HOW TO SEE THE BEST of PRAGUE in 2 HOURS (Honest Guide)
Well-known YouTube channel about Prague, tourist traps, frequently asked questions about Prague etc. See more guides and videos on: Honest Guide YouTube Channel
Rejser rundt Prag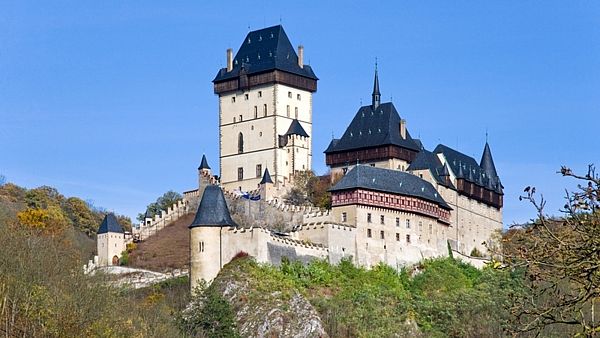 Karlštejn Castle was founded in 1348 by the Charles IV, King of Bohemia and Holy Roman Emperor as his private residence and a place of safekeeping royal treasures, especially his collections of holy relics and the Imperial Crown Jewels.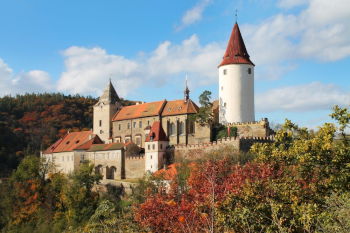 Křivoklát to the West of Prague is one of the oldest and most important castles of the Czech kings and princes, with origins dating back to the 12th century.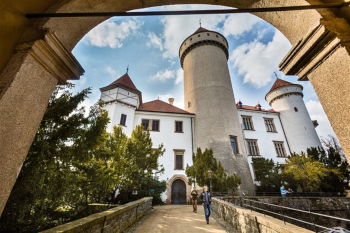 Konopiště castle excels with rich collection funds, castle collections belong to the rarest in Europe. The chateau offers four tours, additional expositions (Museum of St. George, shooting range, thematic exhibitions) and visit the adjacent Rose Garden with greenhouses.